TO REGISTER WITH RAYMOND TERRACE ATHLETICS PLEASE NOTE THAT ALL NEW REGISTRATIONS MUST SHOW PROOF OF BIRTH (e.g. Birth Certificate, Blue Book, Passport etc)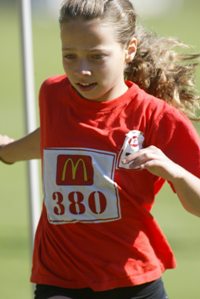 Come to our Club House at Vi Barnett Field from 8.00 am any Saturday morning to complete a registration form.

All Payments are completed online, these can be done at the club. Cash payments are not accepted by the club.
If you're using the Active Kids Voucher please have it before you register.

As you will pay online, you then simply print off your registration form which will show paid, and bring it to the centre with your proof of age and you will be issued with a Registration number.

Please note that you have the option to trial your athlete for 2 consecutive weeks using either of the above methods if you are not sure that they will like athletics. There is a charge of $5 for trialing.

You may also register throughout the season.
Link To Registration for Little Athletics
https://lansw.com.au/raymond-terrace/
Link To Registration for 18+ Via ANSW
/client_files/Files/RTAC/ANSW Seniors 20Yrs Plus.pdf